Seed Library
Welcome to the world of saving and sharing seeds!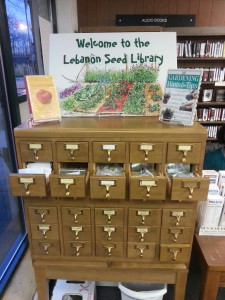 The Lebanon Seed Library is a collection of open-pollinated and heirloom seeds that you can borrow to plant and grow at home in your own garden. By saving seeds as a community we help create local seed stocks that are better acclimated to our unique climate and which support an abundant and genetically diverse landscape. We intend to support gardeners from beginner to expert and help you learn how to grow, harvest, and save seeds.
Our seed collection depends on donations and seasonality. You'll see different seeds available at different times, so check in frequently to see what's available. We offer many types of vegetables, flowers, and herbs.  The seed library is open during regular library hours and is located in the front of the library near the door.  We operate the seed library from March 10st – June 1st.  Just stop in and pick up the seeds you want to grow and enjoy the benefits of fresh produce or beautiful flowers all season long.
Please only take items which you intend to plant and feel free to return packets you do not use.  Information is available on how to save seeds for your next garden or for donation.  Care must be taken to avoid cross pollination that will result in seeds that do not produce plants which are true to their variety.
This program is offered with the help of the Lebanon Garden Club who also offers gardening classes and helpful information.  Check out their website and facebook page for upcoming events.
For easy to make biodegradable pots for starting seeds, visit this page: http://www.forgreenies.com/origami-newspaper-seedling-pots