Teens
Great Links! 
Teen Ink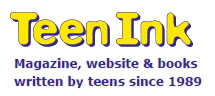 A national teen magazine, book series, and website devoted entirely to teenage writing, art, photos and forums. Students must be age 13-19 to participate, register, or submit work to the site.
Teen Reads 

Commentary, news, interviews and reviews from leading authors for teen readers.
World's largest fan fiction archive and forum where fanfic writers and readers around the globe gather to share their passion for writing.
Math.com 

Free math lessons and math homework help from basic math to algebra, geometry and beyond. Students, teachers, parents, and everyone can find solutions to their math problems.
HyperHistory is an expanding scientific project presenting 3,000 years of world history with an interactive combination of synchronoptic lifelines, timelines, and maps.
Free online dictionary, thesaurus, spanish-english and medical dictionaries, audio pronunciations, Word of the Day, word games, and many more.
Find the best K-12 homework resources organized by subject and grade-level.
Find resources on driving, managing money, recycling, working, protecting your identity, and more.
Programs –
Join us each summer for our teen reading program.  Great books & great prizes.